There are some places you visit when you're a kid that just stay with you for the rest of your life.  If enough years go by you start wondering, "Was that place real, or did I just dream that?  Maybe I just saw it in a movie and a dream made it feel real…"  For me, one of those places was Hocking Hills State Park.  The park's Ash Cave will make anyone wonder if they're still in Ohio!
How I Met the Hocking Hills
When I was 14 years old, my family camped with my grandparents at the state park campground next to Old Man's Cave.  Especially for a boy growing up in relatively flat North Central Ohio, the Hocking Hills were a purely magical place.  I remember it changing my entire perspective on what Ohio was, and I couldn't wait to go back there someday and do some more exploring.  It may have only been a three-hour drive away from Greater Cleveland, but unfortunately, it took me 21 years to get back!  For several years before my return, I occasionally wondered to myself if it had just been a dream, or if it just seemed magical because I was young and inexperienced.
Well, let me tell you it is real and it is as magical as I remembered it being, and now you can see it for yourself right here!  I hope it will inspire you to visit in real life.  I've never found anything quite like it in the Eastern United States:
Click and drag the image above to look around. Click on arrows to move to another location.
Click the box at top right to go full-screen, and click + or – to zoom in and out.
Ash Cave Is BIG—And Easy to Visit!
What you see in this virtual tour is Ash Cave, the largest recess cave East of the Mississippi.  The first 360-degree panorama is at the end of a 1/4-mile concrete handicapped-accessible trail that takes you into the cave from the parking lot on State Route 56.  The conveniently-located parking and the relatively flat paved trail make it easy for strollers, wheelchairs, and scooters to get up to the cave.
At 700 feet wide and 90 feet high, Ash Cave is big enough to literally build a two-story house inside and still look enormous.  The idea of living here may have been exactly how Ash Cave got its name, as early settlers found massive piles of ashes here, probably from campfires made by native tribes.
The second panorama is near the center of the cave.  Since these panoramas were shot in July 2014, you can see a pool but you don't see the waterfall that fills it, as it often runs dry during summer months.  You can also see the steps leading up to the top, and to the trail that runs along the rim of the gorge that leads to the cave.
Hocking Hills = Hiker's Heaven
Ash Cave is on the southern end of the six-mile Grandma Gatewood Trail (also part of Ohio's Buckeye Trail) connecting to two of Hocking Hills State Park's other top features, Cedar Falls and Old Man's Cave.
Needless to say, when you have someplace this special a mere three hours away, you want to take advantage of it.  Since my return in 2012, Becky & I have been back to the Hocking Hills at least twice a year.  In October 2014 and in June 2015, I shot several panoramas I plan to share here, which will give you an even better idea of why I love this place so much…so keep checking back!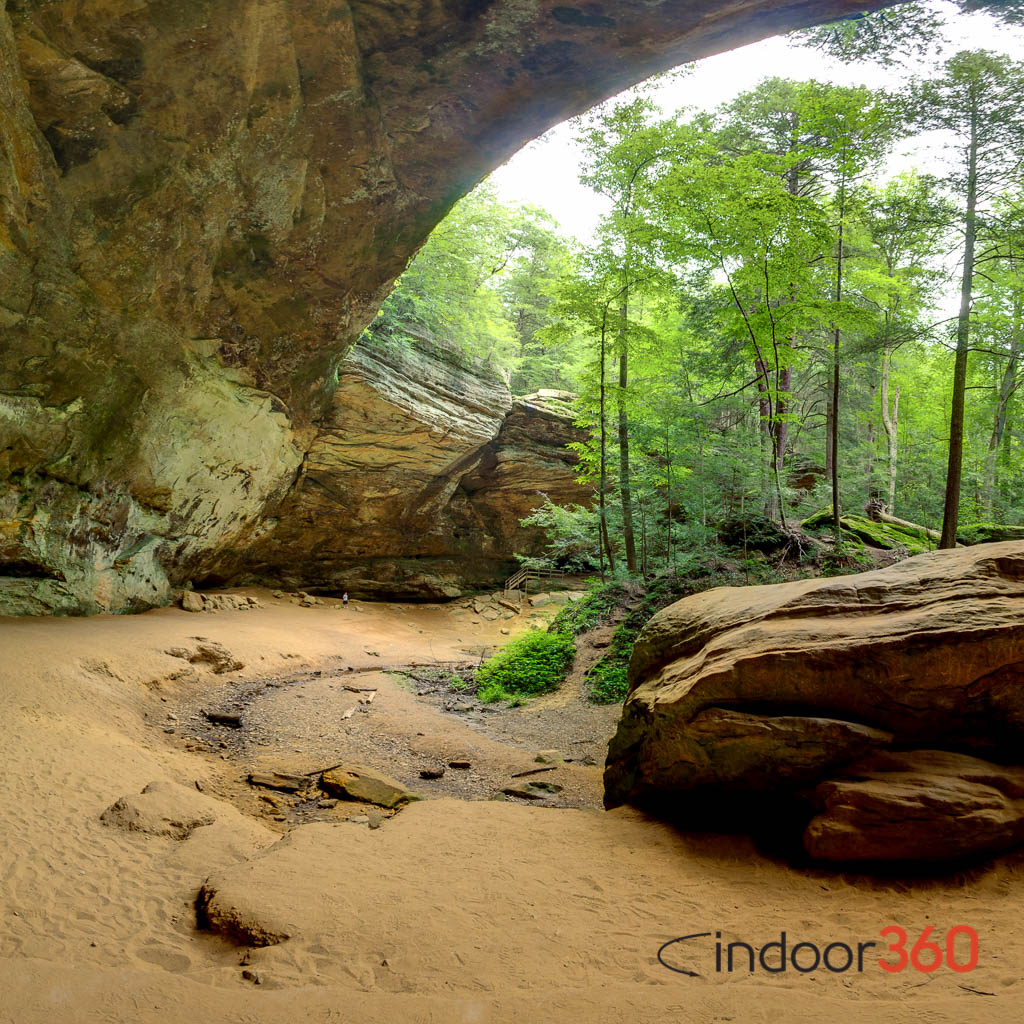 A width of 700 feet and a height of 90 feet makes Ash Cave the largest recess cave east of the Mississippi. A quarter-mile handicapped accessible trail leads from the parking area into the cave.